Critical Thinking: Educating Competent Citizens
We are becoming increasingly aware of the need to analyze the enormous amount of information we receive every day.  This information helps us in our cognitive development and participates in the construction of our patterns of perception of reality. In the case of children and young people, these patterns are in continual development.
Critical thought is a cognitive process that proposes the systematic analysis of information, opinion and statements that we accept in our daily life as valid or true. It is a basic skill for a competent, free and responsible citizen.
It is not about questioning every information we get everyday, it is about being critical with the information that is relevant to us when we make up an opinion about something.
To educate an individual in critical thinking implies educating him or her in the ability to make decisions. It implies that students do not accept opinions or statements as valid without submitting them to their own analysis and as such, to their consideration, based on their knowledge and on other opinions or information that enables them to form their own criteria about what is true or false.
Education in Critical Thinking Implies…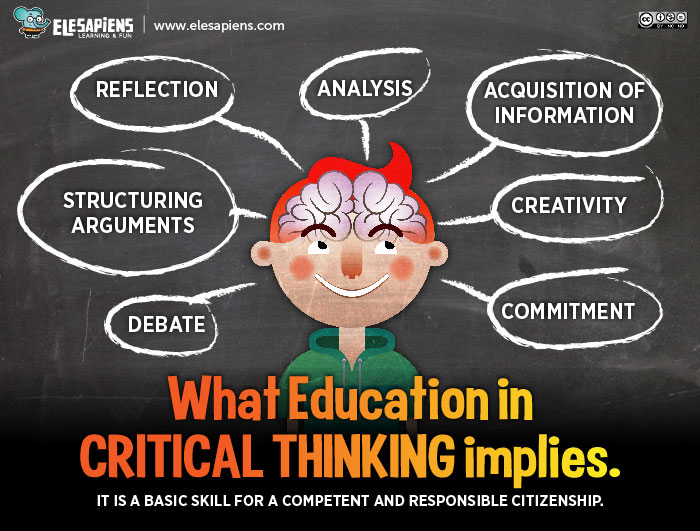 Reflection. We should ask ourselves about the information we receive.
Analysis. By using our own knowledge and other data we evaluate information and arguments that reinforce or question ideas.
Acquisition of information. By contrasting and collecting data from other sources we can, in many cases, confirm or reject the information we have analyzed.
Creativity. This is stimulated by the need to associate ideas and knowledge with the purpose of building up our arguments.
Structuring arguments. Learning to build up cases on a solid foundation in order to support the criteria we have constructed.
Decision making. Learning to take decisions based on our own criteria.
Commitment to our own opinions and arguments.
Debate. The ability to explain and defend our ultimate criteria and contrast it with other criteria that may be as valid as our own.
Cross-curricular Connected to Education in Values
All these capacities have a clear relationship with the underlying value based educational objectivity of our system, given that these values are ever present in a world  that is increasingly technological and, for some, in process of dehumanization.
In working with students, critical thinking encourages and promotes:
Humility to accept criteria that is not their own.
Courage to defend their own criteria against others.
Responsibility to contrast and take into account the appropriate information.
Commitment to filtering out and separating valid from useless information.
Respect for the group and for the individual when the time comes for debate and contrasting ideas.
To educate an individual in critical thinking is to educate him or her to be capable of governing or controlling their own personal and professional life and to be able to find answers and solutions to problems. It is the road to forming critical and responsible citizens who are capable of confronting the challenges of the future.