Inspirational Children Libraries from Around the World
As Amanda Lonergan, a freelance children's writer, tells us in her blog, "libraries today are having to compete with the emergence of soft plays, climbing walls, laser combat, science centers, Harry Potter and Peppa Pig worlds." So what incentive does a child have to go to a library and how can libraries prevent themselves from becoming obsolete?
Libraries need to become places that children want to return to, and these inspiring spaces included in Elesapiens' selection, definitely take kids to a higher level book experience.
My Tree House Library, Singapur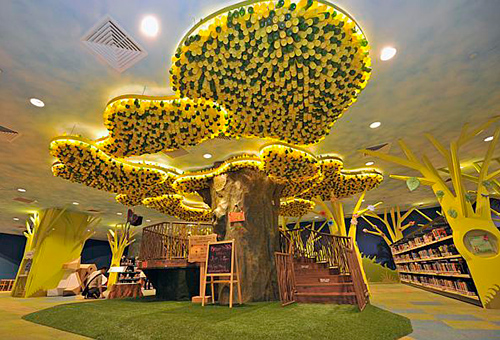 Located in the basement of the National Library, My Tree House is the first green library for children in the world. This means that it was constructed with only recyclable materials, including 3000 recycled plastic bottles collected from the public schools. These bottles represent a tree crown while functioning as a light.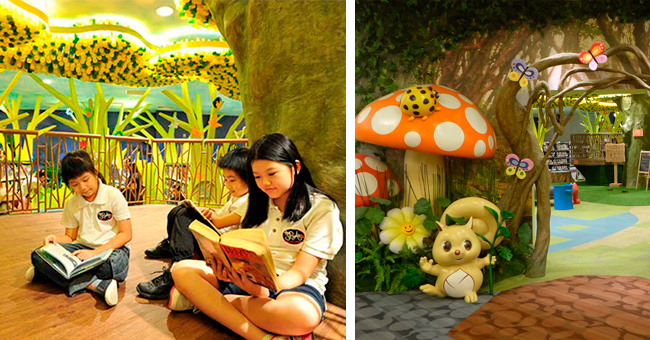 The Library of Muyinga, Burundi
Designed by BC Architects, this library is part of a future inclusive school for deaf children.
Built with locally sourced materials such as wood, earth blocks or rope, the library includes an amazing handmade hammock where kids can read and let their imagination run free.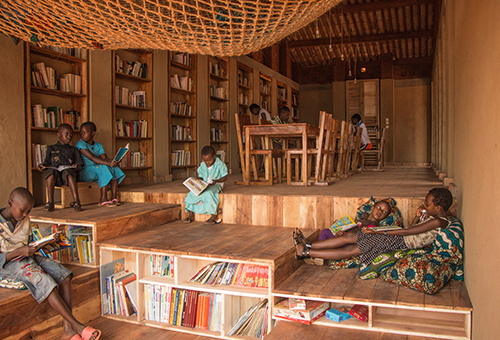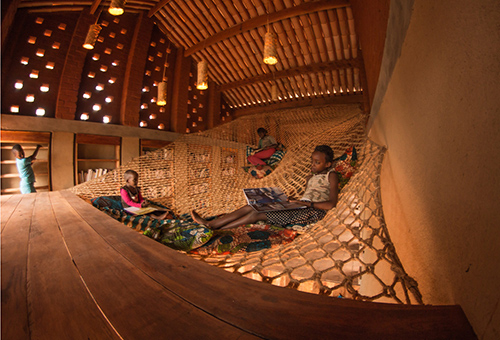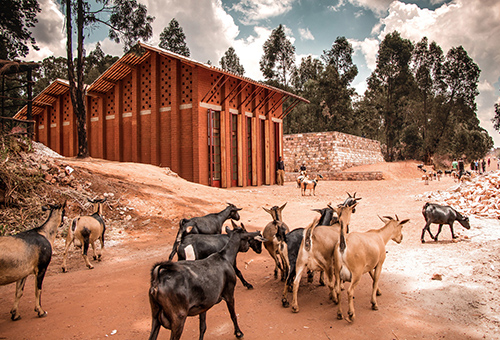 Stephen Perse Foundation Junior School Library, Saffron Walden, UK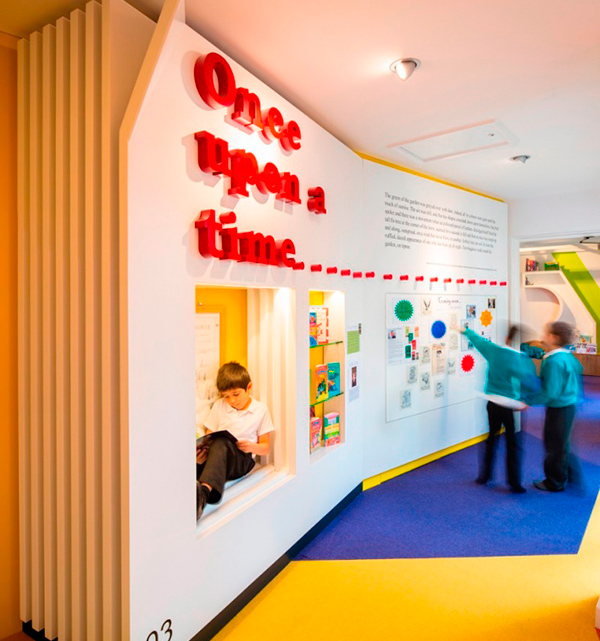 The Stephen Rerse Foundation wanted to create an innovative learning space specifically for reading and story telling. The design is inspired by supersized books, letters and words, and includes the "Tree of Knowledge", a multi-functional space that integrates interactive technologies.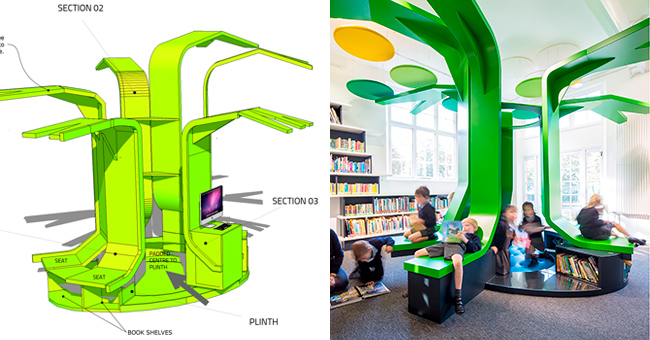 Brentwood Library, TN, USA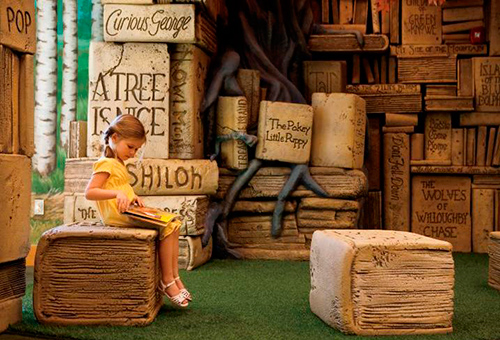 An amazing world of fantasy welcomes visitors to the Brentwood library children's area. Oversized books, rooted trees and a lot of cozy corners where kids can escape to enjoy a good book.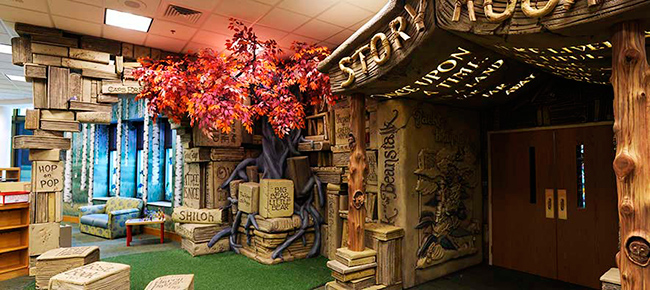 Hjørring Public Libray, Denmark
Bosch & Fjord, the interior architects of this library, had created an interesting structure of spaces connected through a long red tape that runs through the different areas. The whole concept of this library is to encourage playfulness, surprises and most of all a place to be.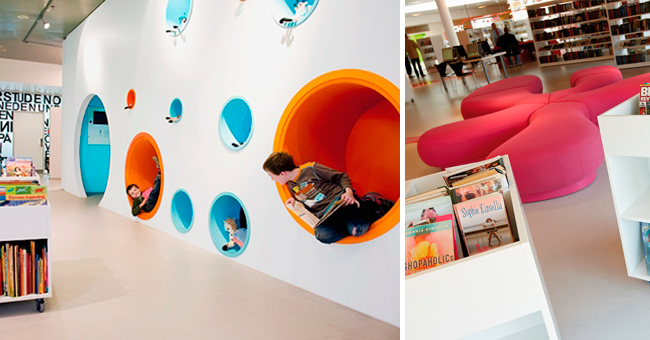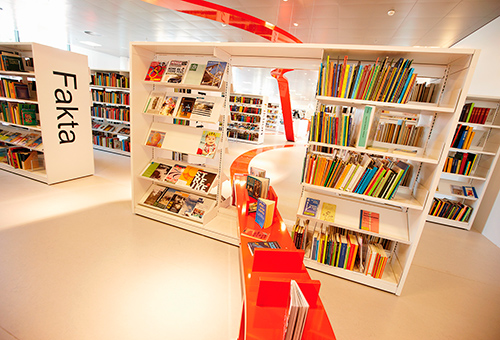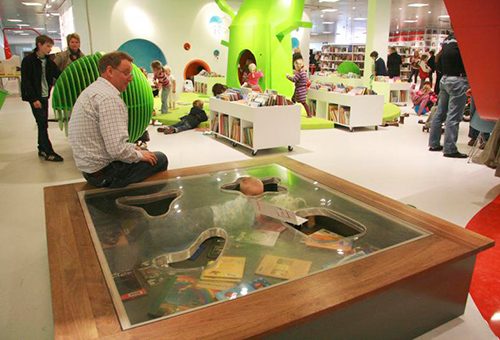 Soneva Kiri Library, Koh Kood Island, Thailand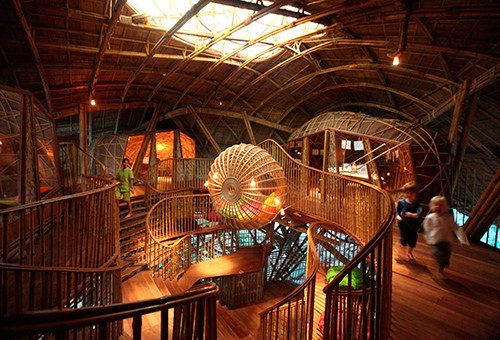 The Soneva Kiri Library is children wonderland on the trees. As part of a hotel resort at Koh Kood Island, this space has been mainly constructed from bamboo and offers meaningful experiences based on ecology, entertainment and education.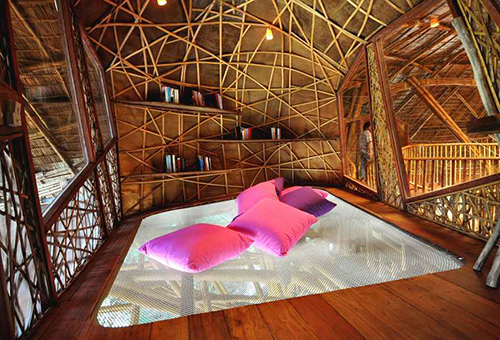 Poplar Library, Beijin
Designed by Sako Architects, Poplar is not really a library rather a book store, but its design is so fascinating that we couldn't resist to include it in our selection.
The space is composed of an event room on the first floor and the store in the second floor, both connected with colorful ribbons that run though the different areas and create a place that cultivates the curiosity of children.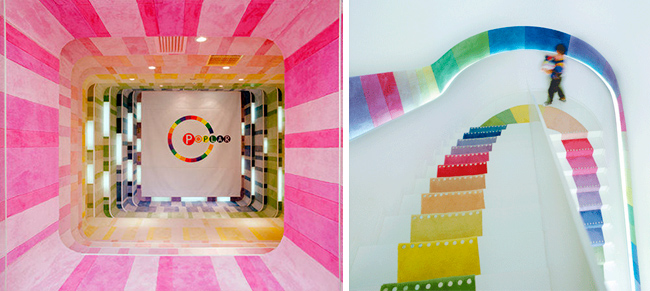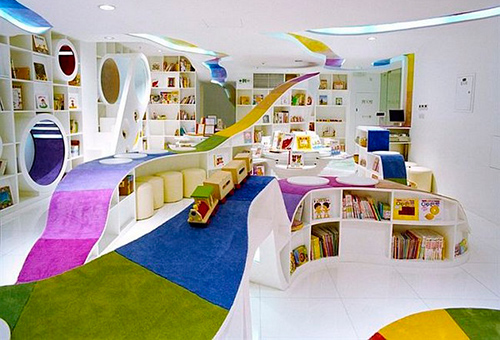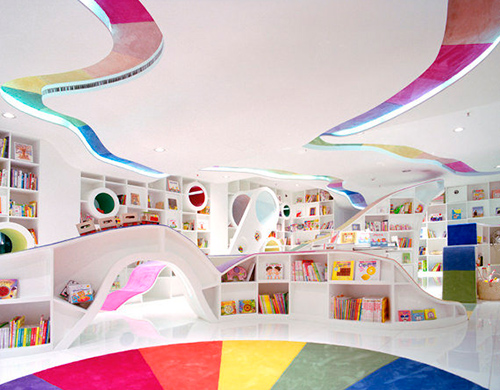 The above photographs and references have been found on: https://amandalonergan.wordpress.com/tag/brentwood-library/ •  http://www.americanconstructors.us/projects/brentwood-library/ • https://emsalcove.wordpress.com/2012/02/12/library-love-brentwood-library/ • http://professionalbooknerd.tumblr.com/post/97513661856/littledallilasbookshelf-brentwood-library • http://runefjord.dk/portfolio/hjoerring-hovedbibliotek/ • http://www.lammhultsbiblioteksdesign.com/projects/projects/denmark/hjorring/hjorring-public-library • http://www.librarybuildings.info/denmark/hjorring-library-metropol • http://www.chadwickdryerclarke.co.uk/knowledge_tree.html# • https://www.architecture.com/FindAnArchitect/ArchitectPractices/ChadwickDryerClarkeLtd/Projects/storytellingspace-138740.aspx • http://www.archdaily.com/467129/library-of-muyinga-bc-architects • http://architectism.com/wonderful-poplar-library-by-sako-architects/ • http://www.sako.co.jp/main/en/pj-pop1.html • https://www.nccs.gov.sg/climatechallenge/issue06/ask-dr-green.html