Design Thinking for Education
The need to reshape teaching methodologies accross all educational levels at schools has been a long-standing issue in education debates. Active learning methods are widely known as the most useful for developing 21st century skills or key competencies needed to overcome the challenges of an unforeseeable future.
For starters, it's necessary to understand the difference between teaching methods and study techniques. The latter are tools that enable the understanding and comprehension of a content: mnemonics, flashcards, summaries, sketch notes, visual thinking, e.g. The teaching methods, on the other hand, are based on theoretical fundamentals that involve different techniques or procedures used by teachers for both transmitting knowledge, procedures and values as well as facilitating the development of the students' skills.
Some of the best known and most used resources: at schools are: PBL, Service-learning, Gamification, Flipped learning, Inquiry – Based Learning and lastly Design Thinking.
'Design Thinking' is an active learning method that serves to create innovative ideas that satisfy the real needs of the environment."
A few decades ago, David Kelley and his team at the IDEO Company started to incorporate Design Thinking to generate innovative products and services adjusted to the real needs of their clients. This initial collaboration sparked Design Thinking's involvement in educational environments. Today IDEO offers educational material for teachers.
Design Thinking, when applied to the educational context, becomes a methodology that encourages students to think actively, develop their ideas and think of errors as part of the learning process.
Design Thinking is composed of five stages conducted by the thinking, creation and reflection processes: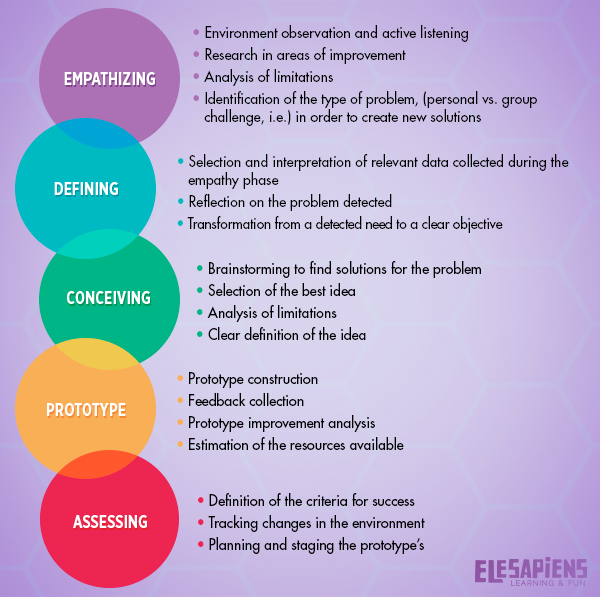 The application of this methodology is possible in any field of knowledge because it develops empathy, creative thinking and critical thinking, as well as collaborative skills, social skills and entrepreneurship.
Over the last five years, the new curricula of the European, North American and Latin American countries have been adding skills relating to engineering, technology, innovation and entrepreneurship in Science.
Learning standards or performance expectations Science curricula not only entail knowing about surrounding phenomena, but also involve applying such knowledge to build prototypes and solve problems in a society. The Design Thinking process will adhere to these standards and correlate to all the learning disciplines represented by the STEM ["acronym"]: Science, Technology, Engineering and Mathematics. Furthermore, it enables further growth in students, such as developing emotional intelligence, and increasing motivation when solving real-world problems, exercising linguistics expression, activating creative thinking and increasing entrepreneurial skills among students.
For a brief introduction to how Design Thinking could be used in your Science lessons, see offline activities with real-world problems and the prototypes that may solve them below: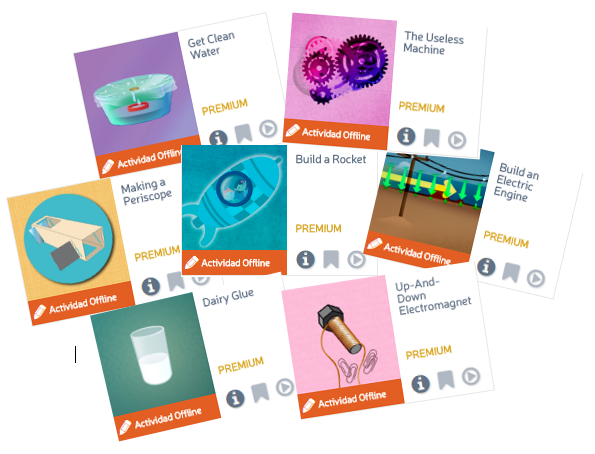 Your students' creativity will astonish you!